What might Jessica, Alf and Estyn have in common?
Ask yourself .. If you were being sent back to Australia from the UK to face a court martial would it be on the same boat you came over on, the MV Stirling Castle? Bars, babes and deck quoits? Dinner at the Captain's table, live music in the lounge, deckchairs poolside?
Estyn D. Jones may have.
Estyn? That's a tough name to grow up with in this country. Who wants to be called that in a classroom of thirty young boofheads, it sounds like a girl's name, Esther,  and Dick. Another invitation to ridicule is to be called Dick so all a fellow can do to get out of the predicament his parents have placed him in is drop the Dick, grab the J from Jones and stick it in front of the Estyn. Then HEY PRESTO, now we have a young dude nicknamed Jestyn.
~~
1946.
Corporal ESTYN Jones posed as a Warrant Officer on MV Stirling Castle on a voyage from Australia to England in March 1946 arriving in the UK in April. This impersonation was deemed an offence and Jones was committed to a Court Martial and sent back to be tried in Keswick South Australia for this and other alleged offences.
Then …. in October of the same year.
Jessica Harkness became pregnant (give or take a week or two)
Alf Boxall arrived home on leave.
and ….
Estyn Jones' Court Martial commenced in KESWICK SA. re alleged offences committed on MV Stirling Castle, amongst others, all of which were dismissed.
We know he was back at Hampstead, Adelaide by 19 Aug 1946, the court martial papers seem to suggest that he had arrived back in Adelaide only a few days previously. The Stirling Castle had docked in Sydney from 20 Jun to 29 Jun and from 2 Oct to 9 Oct in 1946.
All of this probably doesn't amount to much other than a chain of coincidences, but I like it, a lot.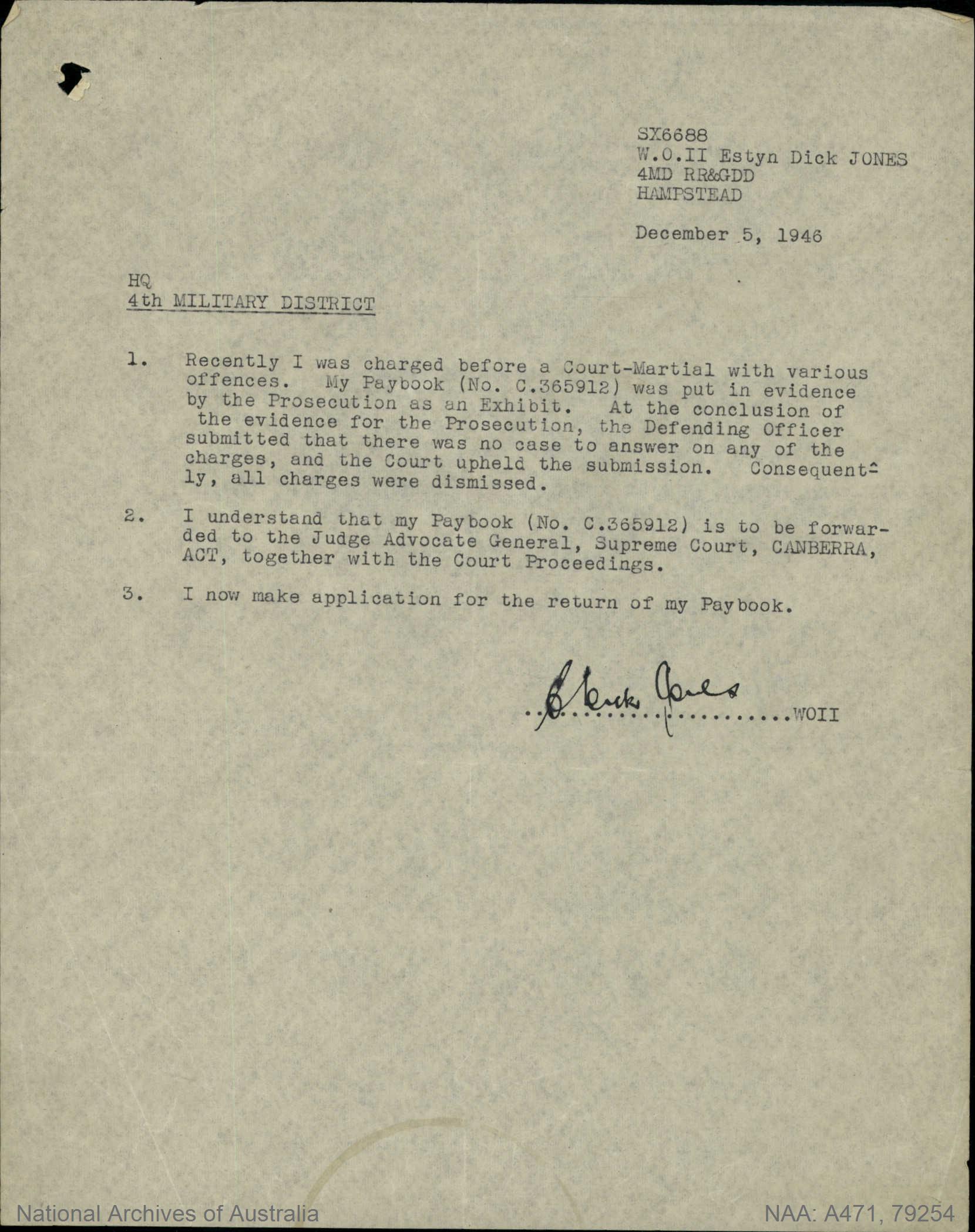 And I like even better the way Jones signed off his E for Estyn. The J in Jones looks likely as well but I'm no expert.
Now he's buried in the same cemetery as Jessica. Not to mention he lived in Henley Beach and that's where Webb was headed.
Thanks Clive ..